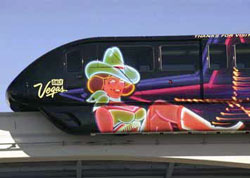 A couple of times per year my inbox gets spammed by the International Monorail Association, asking me to register for one of their conferences on monorails for mass transit. As the invitation always looks rather tacky, I never go, but it made me wonder: Is monorail a mode of transport to be taken seriously, or is it some futurist gadget that politicians buy or promise their citizens in order to win elections?
A glance at a list of monorails around the world shows that:
– most monorails have been built in theme parks or for temporary events such as world exhibitions and soccer world cups
– most monorails have been built in Asia (Tokyo has the most successful monorail line, transporting over 100 million passengers per year; Osaka has the longest line, measuring 22 km)
– Germany is the European hot spot for monorails (the Maglev – 'magnetic levitation' – train is the world fastest monorail; a prototype was built in Germany and a final implementation was built by a German consortium in Shanghai)
– a number of monorail projects have already been torn down or canceled, most of them in North America
Tokyo monorail

Despite of this reality of implemented monorails, some more successful than others, I have the impression that there still is an air of utopia, fantasy and even humor around the topic of monorails. Perhaps it has something to do with the Springfield monorail episode of The Simpsons (featuring the Monorail Song), or the fact that corrupt or weird politicians are often related with futuristic monorail plans.
Springfield monorail – The Simpsons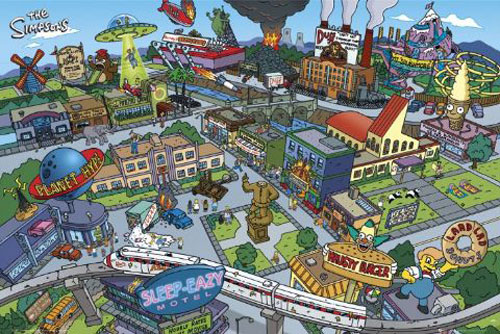 In São Paulo alone, there are enough examples. A monorail project was started by mayor Pitta in 1997, called Fura Fila, but just some concrete pillars were built during his time. Only three mayors later, the project continued as an elevated bus rapid transit project under the name of Expresso Tiradentes. The last decade, politician Levy Fidelix – a fairly bizarre but harmless character with a big moustache – has been promoting his so-called Aerotrem.
And for the 2014 world cup, the city wants to inaugurate a monorail to the Morumbi soccer stadium. However, it is said that the capacity of the system would be insufficient to bring all spectators to the match in a short time. Apparently, until 2010 not a single construction company was interested in building the monorail for the proposed amount of money, but now Bombardier and Scomi are building one line each. Let's wait and see.
Shenzhen monorail near 'Window of the World' attraction park

The new gadget, by the way, is Personal Rapid Transit (PRT). Monorails seem old fashioned compared to this. There was a race to build the first PRT in the world, between Masdar City (Emirates) and the airport of London Heathrow. Individual electric pods with rubber tires bring up to 6 people from a certain spot, for example a parking lot, to the flight terminal, and vice versa. They move automatically, without driver, within a guiding system in the asphalt. New PRT plans are popping up everywhere, including the town of Breda, the Netherlands. The futuristic transportation pods would bring people from the railway station to a hospital and an education campus.
Personal Rapid Transit at London Heathrow