Major infrastructure projects are key in the development of the upcoming BRIC countries. Brazil, Russia, India and China are quickly running in on their connectivity disadvantage, by building thousands of kilometers of high speed rail in a single decade.
Russia has upgraded the existing intensively used railways between Saint Petersburg, Moscow and Nizhny Novgorod. The new Sapsan (falcon) trains, made by Siemens for 250km/h on conventional tracks, have reduced travel times to less than half. Now it is possible to travel from Moscow to Saint Petersburg in about 3,5 hours, and in that same time from Saint Petersburg to Helsinki with the fast Allegro trains (220km/h). Separate tracks for high speed trains are necessary to use the full potential of the system.
Brazil's first TAV is planned in the economic heart of the country, the Southeast. It connects the international airport of Rio de Janeiro (Galeão), to Barra Mansa, religious center Aparecida, high-tech industrial city São José dos Campos, São Paulo international airport (Guarulhos) and Campinas. Many bridges and tunnels need to be built along the way. The public tender for the engineering and operation of the line, however, is still not complete. Therefore it is questionable whether the train service will be operational during the Olympic games of 2016.
India is a traditionally railroad minded country. The current system, however, urgently needs modernization. High speed rail is part of this renewal. Potential routes include an East-West connection between Delhi and Kolkata, and links between Bangalore and Hyderabad and other major cities in the South. Some of the lines are now under development.
China has the biggest ambitions with regard to high speed rail, the country has planned over 10.000 kilometers of rail links in the coming 10 years. It will connect the coastal area as well as the central part of the country. A big example is the North-South from Wuhan to Guangzhou, Shenzhen and Kowloon. West-Kowloon high speed rail link terminal is now under construction and will be the world's biggest underground high speed rail station.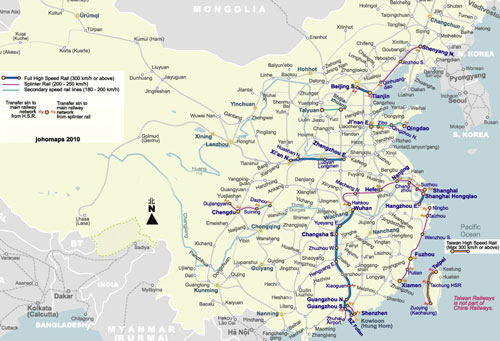 In each of the aforementioned countries, high speed rail projects are both welcomed as well as criticized. The investments are enormous, and in the beginning the system will only be used by a relatively small elite, while the majority of the population cannot afford the fares. As the BRIC countries develop, this inequality may change over time.