Abandoned buildings of NDSM Shipyards in Amsterdam North were occupied in the 1990´s by groups of artists who later organized themselves under the name Kinetisch Noord. In 2001 the group gained access to the NDSM shed (20.000 m2), the Docklands shed (6.000 m2) and two concrete shipbuilding ramps, to develop the whole site (84.000 m2) into the biggest "incubator" in The Netherlands. Affordable and flexible studios were created, in the sheds and under the ramps, while event infrastructure was installed in the open spaces.

The site now carries the name Mediawharf and is inhabited by MTV Networks Benelux and IDTV. Among other events, the theater festival "Over het Ij" 2007 took place around the ramps of the wharf in tents and containers.
IDTV: Re-use of concrete crane rail, project by Trude Hooykaas (2007)
MTV: Re-use of carpenter workshop, project by Max van Aerschot Architecten (2007)
.
.

01. Inside the NDSM shed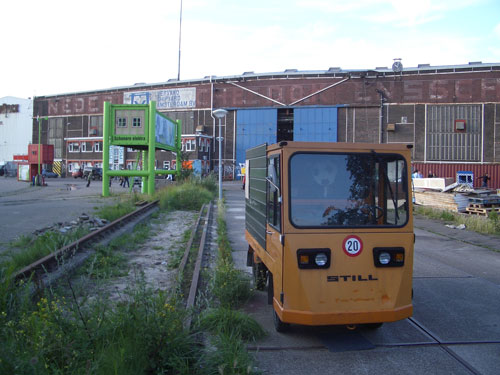 02. Outside space


03. Crane and shipbuilding ramp


04. Bar / restaurant in polycarbonate cladding