Urban farming is more and more part of daily life of city dwellers in the US and (especially Eastern) Europe. Growing vegetables and lifestock in high density urban areas might seem as something strange, but according to various articles the practice of urban farming and the presence of "rural" animals in cities has always existed. In the past it has been necessary as survival strategy, for example during the urban famine at the end of the second World War.
Corn field in downtown Detroit
Today urban farming rises as an alternative for expensive, energy-consuming, processed and imported nutrients. Home growing increases control on the quality of the food and eliminates most of the transport costs. In Africa and other developing regions it´s creating independence for the urban poor. Besides these practical reasons, urban farming has been undertaken as revitalization strategies for abandoned urban sites, such as in Detroit. The resulting urban farms serve also as educational and recreational centers for the neighborhood. Exactly for being high density urban areas, these neighborhoods rarely have any legal restrictions on the growing of certain plants and keeping of unusual animals, which makes urban farms easy to be implemented.
Urban farming in Havana, Cuba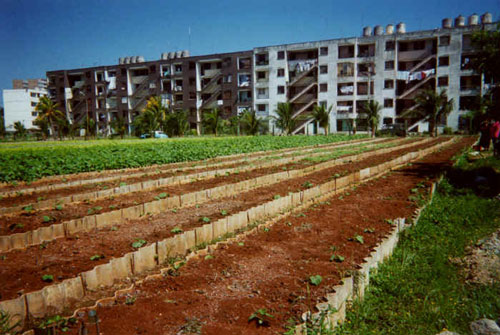 Articles:
Urban Farming: Back to the land in your tiny backyard
Carol Lloyd, San Fransisco Chronicle, 27 June 2008
www.sfgate.com/…
Designs of the time 2007 – Urban Farming
www.dott07.com/go/urbanfarming
Urban farming takes root in Detroit
Matthew Wells, BBC News, Detroit, 10 July 2008
http://news.bbc.co.uk/…