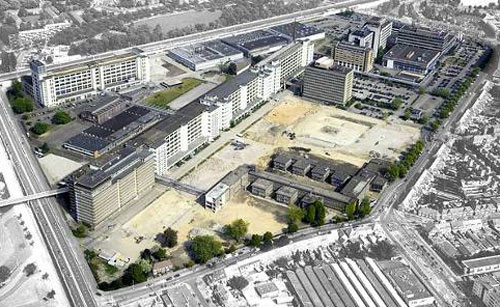 Transformation – new developments and reuse of Philips industries in Eindhoven

The urban renewal plan for Strijp-S includes over 400.000 square meters of program and its final phase should be completed in the year 2020. The share of reused industrial structures is about 150.000 m².
•     Total area: 27 ha
•     Residential floor area: ca. 285.000 m²
•     Dwellings: 2.500 – 3.000
•     Dwelling types: studios, apartments, urban villas and lofts
•     Office floor area: ca. 90.000 m²
•     Retail and culture: ca. 30.000 m²
•     Flexible: ca. 30.000 m²
The idea of Trudo housing corporation is to maintain the industrial atmosphere of the complex, mixing the creative industry with lively functions of gastronomy, bars, culture and housing. This is to be carried out in small scale permeable interventions within the existing big scale structure. The characteristic installation corridor will be maintained with new exciting functions.
Trudo director Thom Aussems criticizes the liveliness of the former urban plan and states that dealing with a place of industrial atmosphere should not be confused with the protection of industrial heritage. It´s a delicate matter. A project can easily go wrong like the reuse of the Witte Dame, he says, where space after renovation became too expensive and therefore not interesting anymore for the cultural avant garde with its lack of capital. The people with the least resources, states Aussems, are the ones who make the place more lively.
Strijp-S should be much more vibrant, creative and industrial than renewal projects like Kop van Zuid (Riek Bakker) and the Hamburg harbor project (Kees Christiaanse). Rather like the Distillery and the Meatpacking District in New York. Can this come true in Eindhoven? Aussems thinks it can, having over 8.000 small creative entrepreneurs in the region, with a turnover greater than the local construction sector. No comparison is made however with Dutch incubator projects ('broedplaatsen'), such as Amsterdam NSDM wharf. The ambition is definitely there and so are the first creative inhabitants of the area. What the future of this hot spot will be, in terms of gentrification, creativity and real estate development, we´ll witness within the next decade.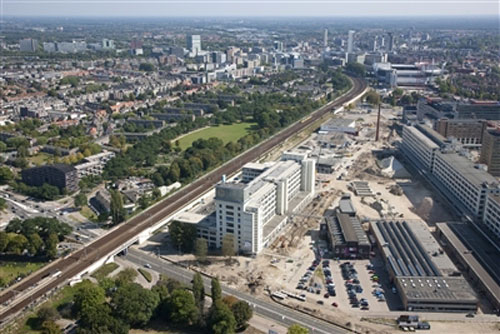 One of the most eye-catching buildings in the complex is the Klokgebouw (Clock building). In this structure many activities have started already and several creative firms have rented a studio. Among others, there is an urban skate park called Area51, sports facility Fit For Free, a sports climbing hall and pop music stage Popei. Many cultural events take place, such as the Dutch Design Week and Flux-S. The Popei stage was designed by En-En architects as colored suspended boxes in the main structure, for maximum sound insulation.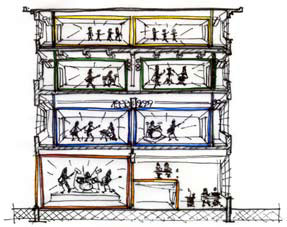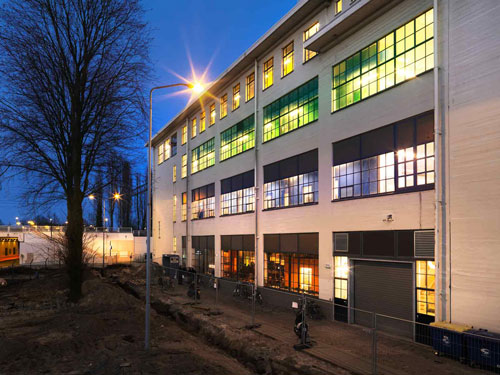 Read more
Reuse of Philips factories in Eindhoven (Projetos Urbanos)
www.projetosurbanos.com.br/2010/03/12/reuse-of-phili…ries-eindhoven
Strijp-S
www.strijp-s.nl/
www.strijp-s.nl/downloads/strijps_vakpers.pdf
Klokgebouw
www.klokgebouw.nl
www.klokgebouw.nl/files.aspx?PID=12558&FID=5274
Popei
www.architecten-en-en.nl/projecten/interieur/popei-in-klokgebouw—eindhoven.html
www.architecten-en-en.nl/public/pdf/9/documentatie/0477—popei—ebook.pdf
Flux-S / Dutch Design Week
www.flux-s.nl
www.dutchdesignweek.nl/ddw//download/strijp.pdf
Thom Aussems (Trudo) lectures on reuse of industrial heritage (Dutch language, in 4 parts)
www.youtube.com/watch?v=Wm-8fHafxSw
Open the Strijp-S project in Google Earth
www.strijp-s.nl/downloads/DO%20stedenbouw%20Strijp-S.kmz