Amsterdam desperately needs more dwellings. These can be built along the Zaan axis, north of the city center, or by expanding satellite town Almere, west of Amsterdam. At the same time, a third project, the office district Zuidas, is already under development. In January this year, politicians have decided to give the go-ahead for a plan to build 60.000 dwellings near Almere, almost doubling the city in size.  Since the economic recession of 2008-2009, it has become clear that the city cannot pay for all three projects at the same time. Criticism is mushrooming among experts in spatial planning.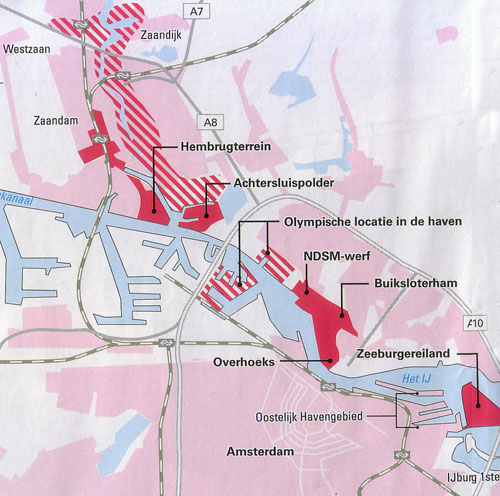 Possible industrial redevelopment sites at the riverbanks of the IJ and the Zaan.
The Council of State Advisers has expressed doubts regarding the Almere expansion. It is an expensive alternative, since a new bridge would have to be constructed to the island Flevoland, costing over 4 billion euros (70.000 per dwelling). Furthermore, the concept of Almere as a satellite town is in essence very unsustainable. Most Almere workers commute daily to Amsterdam by car. More and more, the advantages of redeveloping the riverbanks near the center of Amsterdam are put forward: They are places with strong identity and history. The Zaan region was the first industrial zone in the world, which at the time thrived on small wind powered industries, shipbuilding and waterway logistics. The re-urbanization of this area would happen almost naturally, contrary to the massive State investments needed for Almere 2.0.

Possible expansion sites near satellite town Almere.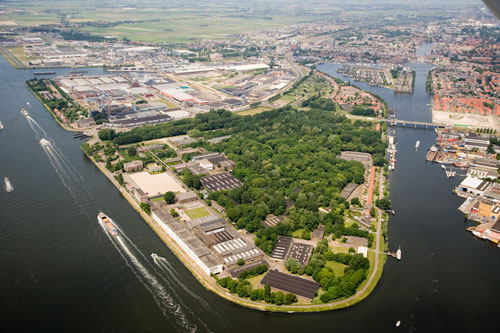 Read more:
Stop de Nieuwbouwwijken – article by Tijs van den Boomen and Theo Baart in NRC Handelsblad (Dutch)
Prachtig compact NL – publication by College van Rijksadviseurs (Dutch)
www.zaanstreek.nl