Between 2005 and 2009 a new high speed rail station landed in Liège (Belgium), a monumental design by Santiago Calatrava. The Guillemins station solved several infrastructural problems and provided the region of Liège and the Dutch region of Zuid-Limburg with access to the TGV-network. Surprisingly, the station also has direct access from the adjacent motorway. The huge terminal is an architectonic eye-catcher, attracting tourists and couples shooting wedding photographs. From the platforms, a wide panorama of the city can be observed, made possible by the longitudinal roof construction. The integration of the station with its surroundings however remains problematic.
Unlike the station of Leuven, Liège-Guillemins is situated as an island in an urban void and space of flows, with no urban development adjacent to it. The master plan, drawn up by Calatrava and Eurogare, foresees broad boulevards connecting the station with the waterfront of the Meuse river. In practice, not much of this connection has been realized yet. In fact, it is almost impossible to get directly from the station to the river, since an urban expressway blocks ones way, with very few options for pedestrian crossing.

As also observed by the Architectural Record, the large space in front of the station remains a desolate parking lot for the time being. Because of its scale and shape, the station also does not connect in any way to the existing neighborhood. The direct surroundings, including some rundown urban blocks with vacant lots and prostitution, will in time probably make way for realization of the master plan.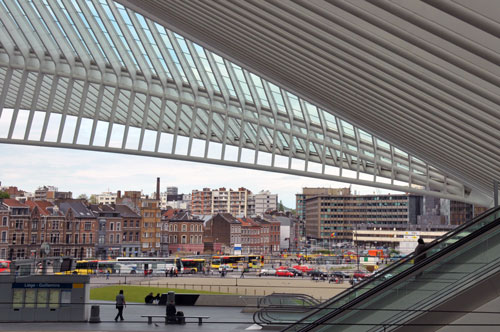 Surroundings of Liége-Guillemins
Meuse waterfront