The station of Utrecht in the 19th century was the first Dutch train station where two railways met – the Rhijnspoorlijn to Amsterdam and the railway to Rotterdam – so people could transfer from one line to the other. Stations, at that time, were mainly logistic hubs just outside the city limits, connecting one city to another.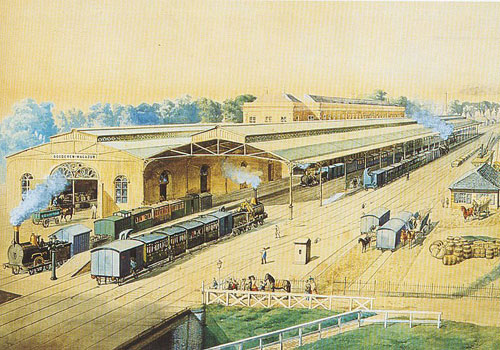 About 70 years later, the city had grown beyond the railway. The location of the central station, the most accessible point in the whole country, was not well used as a place. In 1962, the municipality asked construction company Bredero to draw up a plan to densify the areas adjacent to the infrastructure, and turn Utrecht CS into a centrality, including a shopping mall (Hoog Catharijne), a theatre, concert hall and national event venue (Jaarbeurs).
At this time, car use was increasing rapidly, changing the way people used amenities and moved through the city, and hereby changing the way city's were planned. The historic canal Catharijnesingel, parallel to the rail tracks, was filled in the 1970's and turned into an artery road for automobiles.
A dense patchwork of buildings arose near the station, mainly offices. Despite the modernity, unequal to the rest of the country, relatively soon the complex became outdated. Hoog Catharijne is often criticized for being a monofunctional complex, with poor public space and street access, and poor spatial quality. Another 70 years later, the project CU2030 foresees the transformation of the entire station area until the year 2030. The new transport terminal, designed by Benthem Crouwel, will be ready by 2015. Meanwhile, the Catharijnesingel is being dug out again, to become a canal with, eventually, a large tree canopy.
In 2030, the station area will not purely be a logistic hub, not a densely built up place, but rather a multifunctional part of the city, where mobility is optimally connected to urban functions by pleasant public space.