Because of urban renewal projects, demolition and the current economic situation, many buildings  in The Netherlands remain empty for a period of time. Sealing off vacant buildings and terrains does not improve the liveliness of the neighborhood and can even provoke a downward spiral. Squatting initiatives that fail to engage culturally and socially in the community also won´t provide a solution.
Cultural project developer Lotti Hesper coordinates several temporary cultural projects in empty lots and buildings throughout The Netherlands. Hereby she has the objective to counter vacancy, to have a positive influence on the real estate value of the property, to let inhabitants and entrepreneurs participate actively in their city and to improve social engagement. Lotti is involved in several activities in the Spoorzone (Railway zone) of Delft, which contains many buildings that will soon be demolished to build the new tunnel tracks. In collaboration with Werkplaats Spoorzone she invited professional and non-professional artists to turn a to be demolished block into a row of Delft Blue inspired artistic manifestations, mingling performance, photography, graffiti and painting.
She manages temporary use of buildings in the Kromstraat (Delft), in cooperation with Vereniging Kromstraat and financed by the municipality and Fonds 1818, to give new creative life to this narrow street in the centre that used to be known for drug traffic and feelings of insecurity around empty buildings. In collaboration with The Hub Rotterdam and The Hub São Paulo, she works on the implementation of a shop that combines many micro-shops at the Nieuwe Binnenweg, a shopping street in Rotterdam where massive vacancy is becoming a problem (it is estimated that one out of five shops is vacant at the moment, between the streets ´s Gravendijkwal and Rochussenstraat).
Lotti was so kind to show me the Spoorzone and the Kromstraat in Delft.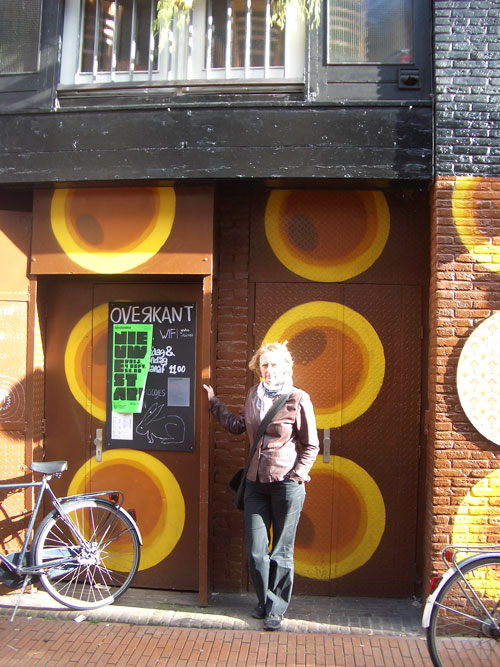 Merten: How do you normally  find new vacant spots with potential for cultural activities?
Lotti: Usually I discover potential project spaces by looking out for them in my surroundings. I like to take my bike and cycle around neighborhoods where I think might be something interesting going on. Sometimes people tell me to take a look in a certain area.
Merten: What happens with a location after such a temporary project has finished?
Lotti: That depends. For example at the Kromstraat, a pop- and culture podium called Ciccionina still continues to be exploited by the same young creative people. After the initial incentive, a low rent was negiotiated with the owner, a combination of a bank, a social housing corporation and the municipality. This way they can stay longer and grow until they can afford a regular rent. Most projects, such as the Spoorzone and Kromstraat, help to define a creative and dynamic image for the area, carried by the community, which remains long after the initial project has terminated or after the buildings have been demolished.
Merten: For whom do you work? Who are your clients?
Lotti: Mostly I manage projects that use community- and cultural subsidies of the municipality and foundations. With those resources I can contract professional artists and other participants. I would also like to work for the (semi) private sector though, such as developers or housing corporations, in order to generate cultural surplus value in urban revitalization projects. I do not want to be a real estate agent who simply combines vacancy with potential users, it is the cultural and social surplus value for the community and the city that interests me.
Delft Blue Buildings – Artwork by Suzanne Liem & Frank Diemel
Delft Blue Buildings – Artwork by Rolina Nell

Kromstraat – Restaurant and fashion workshop
Kromstraat – Restaurant and fashion workshop

Kromstraat – street view in between pop podium and restaurant

Read more:
Lotti Hesper Projectontwikkeling
Video about the Delft Blue buildings at the Spoorzone
Endossa (Hub shop São Paulo)
Leegstand zonder zorgen (documentary)