Soho, near the central district of Hong Kong Island,  is a dynamic urban area full of restaurants, shops and nightlife. The traditional hill-side neighborhood stretches more or less from the lower Queens Road Central until Robinson Road at the top, having the busy Hollywood Road in the mid level.
In the early nineties the Central-Mid-Levels Escalator System was built, able to move people up-hill over 800 meter distance and 135 meter level. The system has entrances at most streets. In the morning it descends, to help people in the neigborhood get to work quicker; at night it ascends, to get inhabitants back home and to bring people up to the bars and restaurants.

View of the Central-Mid-Levels Escalator
This easy access has triggered a rapid gentrification and increasing mixed use of the area. The direct surroundings of the escalator are completely dominated by tourist restaurants and fast food chains. Neighboring streets are steadily being occupied by luxurious apartments for expats and fancy art galleries. In some of the streets an interesting mix can be seen between new art galleries and traditional Hong Kong craftsmen workshops, but due to the ground prices this unique situation is unlikely to last long.

Art gallery and vintage shop in Soho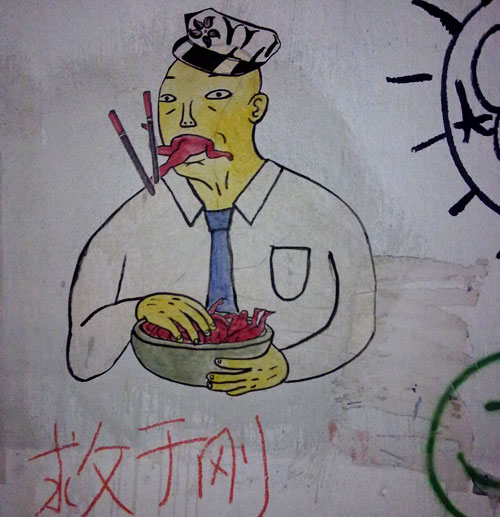 Wall graffiti in Soho
Explore Soho Hong Kong and the escalator system in Google Maps